Enforceable undertakings: customer service standard
This guide helps explain what an enforceable undertaking is, and how it can be formed.
The basics
An enforceable undertaking is an alternative to prosecution through the courts. It is a public and legally binding, written agreement between you and the Regulator.
There are specific activities that must be carried out as part of the enforceable undertaking.
Those activities may be substantial both financially and in terms of the staff resources you use. The Regulator will only enter into an enforceable undertaking if it demonstrates:
your commitment to work health and safety;
strategies that benefit your workplace;
strategies that benefit your industry;
strategies that benefit the community;
commitment and capability to deliver the strategies;
a statement of regret;
a commitment to publicise the enforceable undertaking.
The Regulator will not enter into an enforceable undertaking if the strategies are only about compliance with legal obligations. The following diagram outlines what is included in an enforceable undertaking proposal.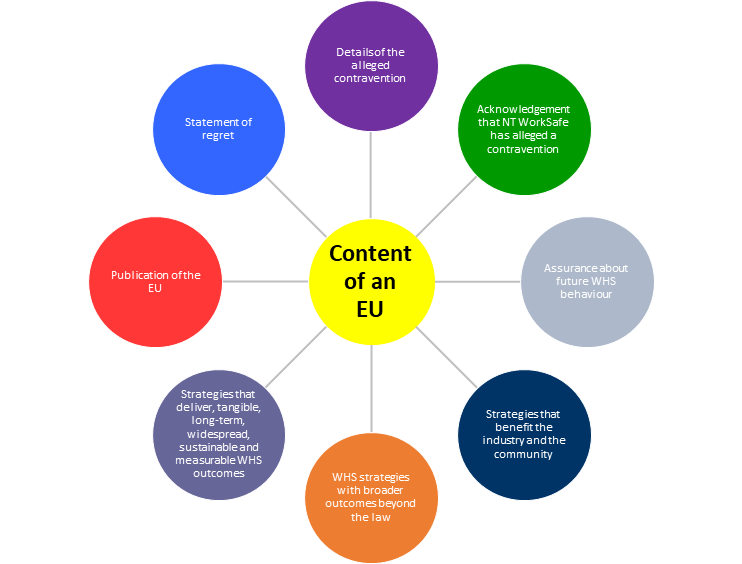 NT WorkSafe will
Consider an enforceable undertaking proposal in relation to an alleged contravention of the Work Health and Safety Act (National Uniform Legislation) 2011 (the Act).
Offer you advice about the process.
Decide whether or not to accept an enforceable undertaking.
NT WorkSafe will not
Force you to enter into an enforceable undertaking.
Prepare an enforceable undertaking proposal on your behalf.
Provide legal advice.
Accept an enforceable undertaking for a category 1 or industrial manslaughter offence.
What you need to do
Provide us with any information that is requested.
Meet agreed timeframes.
Regularly keep NT WorkSafe informed of the progress of your enforceable undertaking.
Tell us in advance if you can't meet deadlines.
Be committed to the process.
Be capable of meeting the enforceable undertaking outcomes.
Engage with us as soon as possible after we have alleged a contravention.
What you can expect from us
We will offer you advice and feedback in the preparation of your enforceable undertaking proposal and keep you informed of its progress.
Be proactive in progressing your enforceable undertaking proposal.
Ensure our decisions and actions are fair, reasonable, transparent and appropriate and that we communicate this to you.
Decline an enforceable undertaking if there are unreasonable delays on your behalf, or if the enforceable undertaking is not of an appropriate standard, or does not show evidence of commitment or capability to meet outcomes.