High risk work licence
The high risk work licence (HRWL), implemented in the Northern Territory (NT) on 30 June 2010, was introduced to align with national safety standards, improve interstate recognition of skills, and better protect against fraud by incorporating a photograph of the licence holder.
HRWL are issued for a period of up to five years and are valid in every Australian State and Territory enabling people to operate high risk equipment under consistent standards Australia wide.
When a licence is issued with more than one licence class, the expiry date of the licence is determined from the date when the first class or classes were granted.
National certificates of competency cards or 'old style' certificates or licences issued before 30 June 2010 did not originally have an expiry date or a photograph of the licence holder. These certificates are now expired as per the transitional arrangements identified below. If you wish to re obtain a HRWL in the NT you will be required to undergo a new assessment of your competency with a registered NT assessor. For a list of registered assessors go to find a high risk work licence assessor.
| Date of issue of licence or date of most recent endorsement on the licence | Deadline to convert to a new licence |
| --- | --- |
| Between 1 September 1994 to 31 December 1995 | 30 June 2011 |
| Between 1 January 1996 to 31 December 1998 | 30 June 2012 |
| Between 1 January 1999 to 31 December 2001 | 30 June 2013 |
| Between 1 January 2002 to 31 December 2004 | 30 June 2014 |
| Between 1 January 2005 to 30 June 2010 | 30 June 2015 |
Certificates issued prior to 1 September 1994 were issued prior to the commencement of the National Occupational Health and Safety Certification Standards and were NOT a national licence. Holders of these certificates had a 2 year amnesty period to convert these certificates to a national licence in 1994.
Example of NT High Risk Work Licence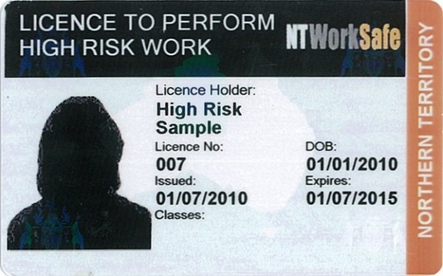 What licence classes are not high risk work licences?
The following classes may be issued by some States or Territories, but they are not issued in the Northern Territory.
LC Cableway / Flying Fox
LD Draglines
LS Front End Loaders (Skid Steer Types)
LL Front End Loaders
LG Grader
LBG Bridge/Gantry, 3 power remote control load over 5 tonnes
LZ Dozers
LE Excavators
LB Front End Loader / Backhoes
LR Road Roller
LP Scraper
Interstate
Interstate HRWL are recognised in the NT. As such, they do not need to be transferred.
If you are a resident of the NT and your HRWL is due for renewal, you are able to renew your licence at the Territory Business Centre.
If you now reside in another State/Territory and your HRWL is due for renewal, you are required to renew your licence in that jurisdiction.
If you hold a certificate of competency for a licence class that is not a HRWL that was issued interstate, contact the relevant issuing body for more information.
Trainees and unlicensed persons – Supervision of high risk work
Under Regulation 81 of the Work Health and Safety (National Uniform Legislation) Regulations a person must not carry out a class of high risk work unless the person holds a HRW licence for that class of high risk work.
A person must undergo the appropriate training through an RTO in order to obtain this licence. You are no longer able to perform this work under the supervision of a person who holds a relevant licence unless via a structured training plan formulated by the RTO.
Applying for a licence
To be eligible to apply for a licence you must:
Be 18 years of age
Reside in the Northern Territory
Complete training through a registered NT assessor and provide the assessment report no more than 60 days from the assessment date.
Not hold an equivalent licence under a corresponding Work Health and Safety law unless that licence is due for renewal
Be able to carry out the work to which the licence relates safely and competently
You can get information on how to apply for a licence by: