Electrical safety periodic tests and inspections - Electrical riser brackets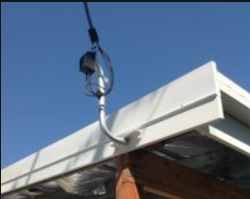 Electrical riser brackets are a part of the premise's electrical installation and are used to raise the electrical supply cable above the ground from the supply pole to the premises.
In some cases the connection point on the premises is sufficiently high or the electrical supply is underground which removes the requirement for riser brackets.
Riser brackets are usually made from metal which is electrically conductive and are continuously exposed to the environment. If the insulation is degraded or earthing becomes faulty, this may form an electrical circuit to the roof of the premises and present a risk of electric shock to persons accessing the roof or guttering.
It is the responsibility of the owner/operator of an electrical installation to ensure the electrical installation is safe[i]. NT WorkSafe recommends that an inspection and test of the earthing of riser brackets and their connections should be undertaken when electrical work is performed and included as a part of periodic inspections of the electrical installation by a licensed electrical contractor.
Ensuring that no electrical faults are present is especially important before accessing the roof or performing gutter maintenance.
Periodical tests and checks should also be conducted on:
Smoke alarms - annually
Safety switches

[ii]

- annually or as per manufacturer's recommendation
Solar inverters – as per manufacturer's recommendation.
---
[i] Electricity Reform Act 2000 – Section 68.
[ii] Safety switches, also known and RCDs which protect against electrical shock from circuits
Extract Electricity Reform Act (2000)
Section 68 Responsibility of owner or operator of installation
(1) A person who owns or operates an electrical installation must take reasonable steps to ensure that:
the installation complies with, and is operated in accordance with, technical and safety requirements imposed under the Regulations; and
(b) the installation is safe and safely operated.
Maximum penalty: 2,500 penalty units ($395,000)
(2) For the purpose of ensuring under this section that an electrical installation complies with the technical and safety requirements and is safe, a person may, subject to the Regulations, rely on a certificate of compliance issued under this Part in relation to the installation.