DC Solar isolator fire
This safety alert has been issued to highlight the potential fire risk of poorly installed Solar PV systems.
Background
On Saturday 14 September 2019, a solar PV system caught fire on the roof of a commercial building in Humpty Doo. The fire was extinguished before it spread to the rest of the building.
The Solar PV system was installed in January 2016.
An investigation by Electrical Safety Inspectors found the ignition point of the fire was a DC solar isolator, which had suffered extensive electrical damage to the switch contacts. The likely cause of the fire was poor installation practices, which allowed moisture to enter the isolator causing an electric arc.
Contributing factors included
The installer did not use mounting brackets supplied by the manufacturer.
Instead, self-tapping screws were drilled through the back of the isolator casing to mounting the isolator to a backing plate, which compromised the isolators Ingress Protection (IP) rating.
The silicon, which had been applied to the protruding screws to reseal the isolator case, had deteriorated.
The investigation also found some material used during installation was not suited to the climatic conditions the Solar PV System was installed in. These include:
Sealant deteriorating causing conduits to come loose, exposing electrical wiring to the elements.
Nylon zip ties deteriorating causing the risk of damage to conduits and solar wiring that came loose and into contact with the roof.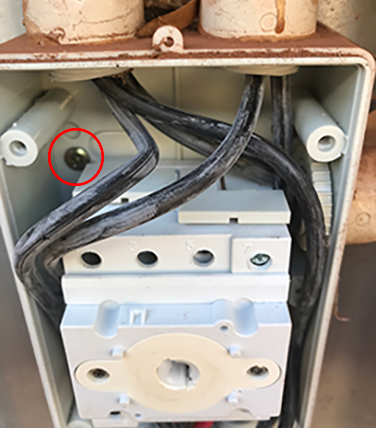 Action required
DC Solar isolators are installed in accordance with the ASNZS3000:2018, ASNZS 5033:2014 Amendments 1 & 2, Clean Energy Council guidelines and the manufacturer's instructions.
DC Solar isolators are protected as much as possible from the extremes of weather with particular focus on UV radiation and moisture.
Quality material is used in all installations.
Best practice is used during installation to ensure the equipment is installed correctly and in accordance with manufacturer's instructions.
Action for owners
Don't 'Set and Forget', owners of a Solar PV systems must have a scheduled maintenance program as outlined in the owner's manual for someone to regularly clean, inspect and test their solar installation to ensure maximum benefit from the system.
If there are any concerns as to the safety of the system, contact a licensed electrical contractor for assistance and advice. A list of licensed electrical contractors is available on the Electrical Workers and Contractors Licensing Board website.
Further information
For further information, please refer to the following.
Australian Standards
Disclaimer
This Safety Alert contains safety information following inquires made by NT WorkSafe about an incident or unsafe practice. The information contained in this Alert does not necessarily include the outcome of NT WorkSafe's action with respect to an incident. NT WorkSafe does not warrant the information in this Alert is complete or up-to-date and does not accept any liability for the information in this report or as to its use.