Fireworks pyrotechnician injured
The purpose of this Safety Alert is to remind firework operators to be vigilant while working with firework displays. The Work Health and Safety (National Uniform Legislation) Act 2011 requires appropriate duty of care and hazard assessments along with risk management and emergency planning for all work related activities.
Background
A pyrotechnician was hand firing a number of 100-shot cakes when a malfunction occurred resulting in severe internal and external burns. One fan-cake was found to have burst at the base of the cardboard tubes.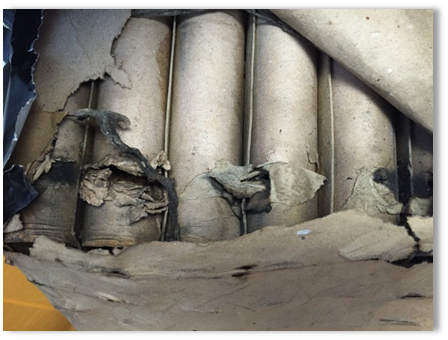 Action required
A hazard and risk assessment must be done to determine the risks associated with the activity.
The hierarchy of controls – eliminate, substitute, isolate, engineering, administrative and PPE – should be used in the development of the risk management approach.
All fireworks operators should consider the isolate control measure and use electronic firing over hand firing of the fireworks. Electronic firing provides for a greater safety distance between the operator and any potential malfunctioning fireworks.
Any PPE selected must be capable of providing protection from acute and chronic exposures for the activity, taking normal and abnormal functioning of fireworks into consideration.
Fireworks operators should reassess the adequacy of their risk assessments for all activities undertaken including setting-up, managing the display and post display activities. Each time an activity is done a review of the risks should be undertaken.
Fireworks operators should review their safety management systems, including emergency response planning, and ensure that the systems are adequate for the situation and are being followed.
Fireworks operators should check all outer and inner packaging to look for any damage (i.e. water damage) prior to the fireworks use.
Further information
Disclaimer
This Safety Alert contains safety information following inquires made by NT WorkSafe about an incident or unsafe practice. The information contained in this Alert does not necessarily include the outcome of NT WorkSafe's action with respect to an incident. NT WorkSafe does not warrant the information in this Alert is complete or up-to-date and does not accept any liability for the information in this report or as to its use.