Preventing contact or entanglement with machinery or plant with moving parts
The purpose of this Safety Alert is to highlight the need for appropriate guards or barriers around machinery or plant with moving parts to reduce the risk of contact or entanglement that could lead to serious or fatal injuries.
Background
A female passenger was boarding a hot air balloon near Alice Springs when her scarf was drawn through the wire mesh at the rear of a cold air inflation fan powered by a direct drive 13 horsepower motor. The scarf became entangled in the fans blades and spindle causing fatal injuries to the passenger.
Air inflation fans (pictured below) are commonly used to inflate hot air balloons prior to loading passengers.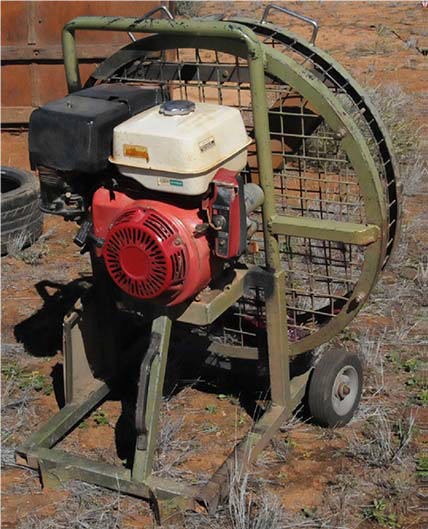 Contributing factors
The guarding around the air inflation fan blades was not sufficient to prevent objects being drawn through them.
Action required
Owners and operators of machinery or items of plant with moving parts should provide guarding that is sufficient to prevent the entanglement of loose clothing or hair of operators, passengers or people passing by
If machinery or items of plant are being operated in public thoroughfares or areas of high traffic, physical barriers should be erected to prevent access to the vicinity of the machinery or item of plant
The operation of machinery or plant in public thoroughfares or areas of high traffic should be supervised.
Further information
Safety Alerts
Disclaimer
This Safety Alert contains safety information following inquires made by NT WorkSafe about an incident or unsafe practice. The information contained in this Alert does not necessarily include the outcome of NT WorkSafe's action with respect to an incident. NT WorkSafe does not warrant the information in this Alert is complete or up-to-date and does not accept any liability for the information in this report or as to its use.