Restaurant patrons injured in gas related incident
The purpose of this Safety Alert is to remind restaurants, café's, food vendors and domestic gas appliance users of the importance of only using approved gas appliances and following all safety instructions included with the gas appliance or associated gas cartridges.
Background
Five patrons were injured, some seriously, when gas ignited at a Darwin restaurant in September 2022. The patrons were part of a group cooking their meal on a barbeque appliance that was inserted into the table which utilised both a butane gas cartridge and charcoal as the fuel source. At the time of the incident the patrons were cooking with charcoal as the fuel source for the barbeque.
The constant radiant heat from the burning charcoal may have caused the butane gas in the cartridge to expand and overpressure, activating the cartridge's Countersink Release Vent (CRV) safety device. This released the cartridge's butane gas content which ignited causing the injuries.
Possible contributing factors
The setup of the barbeque appliance (see diagram below) may not have been compatible with the butane gas cartridge as:

The warning label on the gas cartridge advised not to operate the cartridge within 400mm of any other appliance or combustible materials.
The distance between the charcoal reservoir and the vented gas cartridge compartment was 40mm.
Information on the gas cartridge also warned that subjecting the cartridge to constant high temperatures may result in the cartridge rupturing.

The barbeque appliance, which may have been imported into Australia, did not have an approval notice to state it was authorised for use in Northern Territory, as required by the Dangerous Goods Regulations 1985.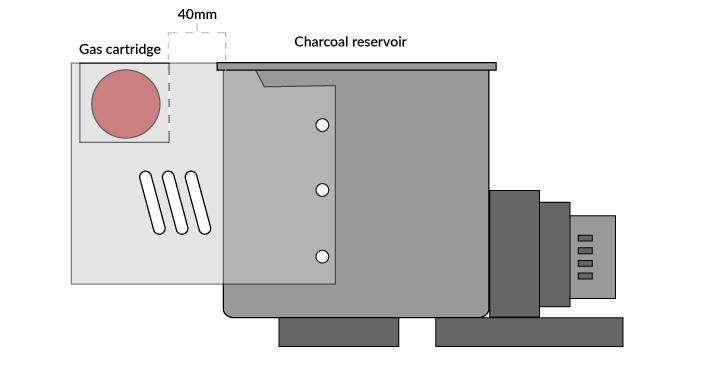 Action required
All gas appliances must either comply with AS2658 - LP Gas – portable and mobile appliances, or be approved by the Australian Gas Association, or the Australian Liquefied Petroleum Gas Association or NT WorkSafe before use in the Northern Territory as per the Regulation 189 of the Dangerous Goods Regulations 1985.

Custom built gas appliances made from approved components must also be submitted for assessment and be approved before use.

Follow all manufacturer's instructions before using any gas appliance, this includes the manufacturer's instructions for any fuel source such as gas cartridges.
Safely remove any gas cartridges from the appliance if another fuel source, like charcoal, is being used.
Further information
For further information, please refer to the following:
Safety Alerts
Disclaimer
This Safety Alert contains safety information following inquires made by NT WorkSafe about an incident or unsafe practice. The information contained in this Alert does not necessarily include the outcome of NT WorkSafe's action with respect to an incident. NT WorkSafe does not warrant the information in this Alert is complete or up-to-date and does not accept any liability for the information in this report or as to its use.