Safe unloading of sheet material
The purpose of this Safety Alert is to highlight the risk of serious crush injuries associated with the unloading of sheet material from A-Frames mounted on flat bed trailers.
Background
A 19 year old male worker sustained serious crush injuries while assisting with unloading two pallets of sheet glass at a workplace in Yarrawonga. The pallets, weighing approximately one tonne, were secured by a single set of restraints and transported vertically on an A-Frame mounted on a flat bed trailer. The worker was standing on top of the trailer and in front of the pallet when the restraints were released. The pallet fell as a co-worker jumped from the trailer after releasing the restraints.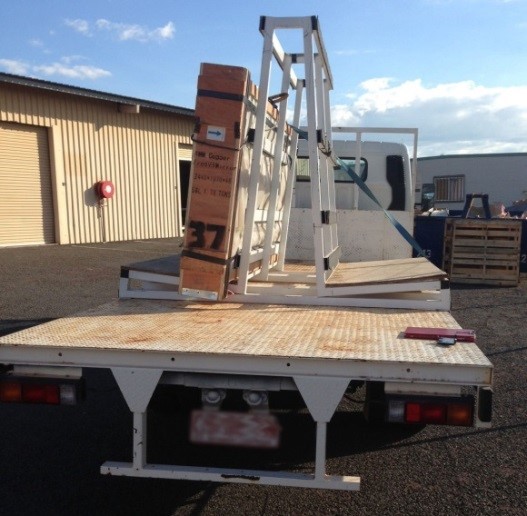 Contributing factors
The designated loading area was not used and the vehicle was parked on uneven ground when it was unloaded.
A single set of restraints was used to secure both pallets.
The co-worker jumping from the vehicle caused the trailer to move, which may have contributed to the pallet falling.
The worker was standing in the fall path of the pallet.
Action required
Each load of sheet material should be individually secured on the A-Frame.
The loading and unloading of material should be done in the designated area.
Never stand in front of sheet material when loading or unloading.
Always use the available access points when climbing onto or off a trailer.
Further information
For further information please refer to the following:
Safety alerts
Codes of practice
Disclaimer
This Safety Alert contains safety information following inquires made by NT WorkSafe about an incident or unsafe practice. The information contained in this Alert does not necessarily include the outcome of NT WorkSafe's action with respect to an incident. NT WorkSafe does not warrant the information in this Alert is complete or up-to-date and does not accept any liability for the information in this report or as to its use.