Safe use of portable ramps when working on motor vehicles
The purpose of this Safety Alert is to highlight the risk of serious crush injuries associated with working beside or underneath motor vehicles on portable ramps when measures have not been taken to immobilise the vehicle or prevent overtravel.
Background
A 67 year old male mechanic, sustained serious crush injuries when the vehicle he was working on dislodged and rolled off its ramps.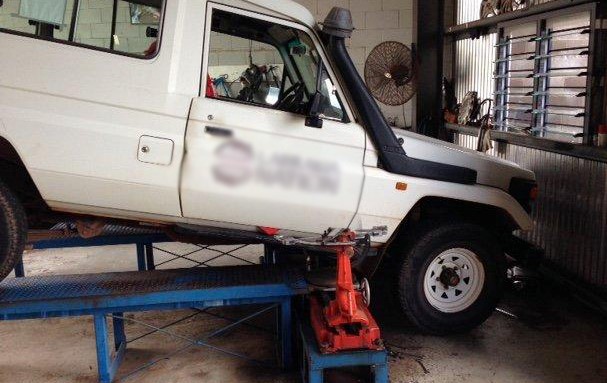 Contributing factors
The ramps were not fitted with controls for the prevention of overtravel; ramps must be able to stop the vehicle from travelling forward off the platform in a direction opposite to the incline.
Vehicle was not adequately immobilised to prevent movement.
Action required
Ensure ramps are fitted with guard/stops to prevent vehicles rolling off due to overtravel.
Check vehicle is immobilised prior to works being carried out i.e. wheels chocked and/or handbrake is engaged.
Never work under or beside an unrestrained vehicle.
Keep work area free of trip hazards and ensure there is enough space to carry out work safely.
Inspect and maintain all equipment and plant in the workplace.
Develop and implement safe work procedures and ensure that all workers are informed and trained in these procedures.
Further information
Legislation
Codes of Practice
Guidance material
Disclaimer
This Safety Alert contains safety information following inquires made by NT WorkSafe about an incident or unsafe practice. The information contained in this Alert does not necessarily include the outcome of NT WorkSafe's action with respect to an incident. NT WorkSafe does not warrant the information in this Alert is complete or up-to-date and does not accept any liability for the information in this report or as to its use.