Securing raised tilt cabs
The purpose of this Safety Alert is to remind workers and persons conducting a business or undertaking (PCBUs) to properly engage all safety mechanisms before undertaking maintenance work on vehicles and machinery.
Background
A station hand carrying out maintenance work in the engine compartment of a truck received fatal injuries when the cab fell back onto him.
The truck, a Mitsubishi FV418, required the cab to be tilted up and forward to access the engine compartment. When the cab is tilted forward, a cab support is extended and engaged to hold the tilted cab in place. A locking pin is required to be inserted into the cab support to prevent the cab support from being accidentally disengaged and falling back into place.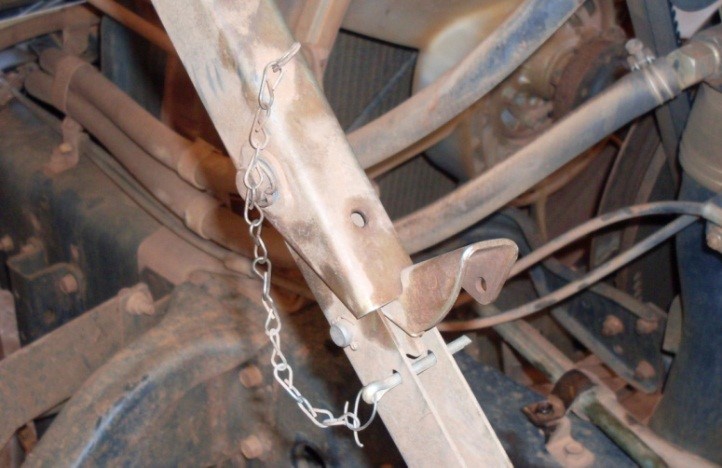 Contributing factors
The locking pin was either dislodged or not inserted, allowing the cab support to disengage.
Action required
Before undertaking any maintenance on vehicles or machinery workers should refer to the vehicle or machinery operating manual and follow all safety instructions.
All safety mechanisms should be engaged and checked before the commencement of maintenance work on vehicles or machinery.
PCBU's concerned with the suitability of the inbuilt safety mechanism should consider, in consultation with the manufacturer, additional safety mechanisms such as:
Using additional cab struts to secure the cab
Using a cotter pin or similar restraint to secure the locking pin if there are concerns it can be easily dislodged.
Disclaimer
This Safety Alert contains safety information following inquires made by NT WorkSafe about an incident or unsafe practice. The information contained in this Alert does not necessarily include the outcome of NT WorkSafe's action with respect to an incident. NT WorkSafe does not warrant the information in this Alert is complete or up-to-date and does not accept any liability for the information in this report or as to its use.