Wood chipper– Leg amputation
The purpose of this Safety Alert is to highlight the dangers associated with the use of ropes in the vicinity of wood chippers.
Background
A worker has had a leg partially amputated while assisting with tree removal work. The NT WorkSafe investigation indicates that a length of rope was dragged into the chipper at speed, catching the workers leg and causing the injury. At the time of incident the worker was not in close proximity of the feed table.
Contributing factors
Excess material in the work area which could become tangled in branches being dragged into he wood chipper.
Ropes used in the work area not adequately stored (winch, climbing, work ropes).
Feeding branches/logs/trees which contain foreign objects into the wood chipper.
Inadequate hazard identification and risk assessment.
Lack of information, training, instruction and supervision of inexperienced workers in tree lopping activities.
Action required
Check that nothing is entangled in material for chipping before it is fed into the wood chipper.
Keep any ropes not in use away from the work area, especially where branches are being dragged into the wood chipper.
Feed the wood chipper from the side of the feed table.
Ensure that excess rope is secured. For example, use a rope bag or a retractable system.
Ensure the provision of information, training, instruction and supervision of workers in relation to hazards and risks associated with the use of the wood chipper.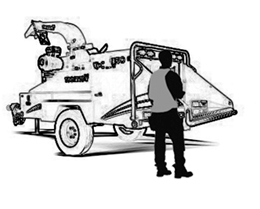 Further information
Code of practice
Safety alerts
Guides
Disclaimer
This Safety Alert contains safety information following inquires made by NT WorkSafe about an incident or unsafe practice. The information contained in this Alert does not necessarily include the outcome of NT WorkSafe's action with respect to an incident. NT WorkSafe does not warrant the information in this Alert is complete or up-to-date and does not accept any liability for the information in this report or as to its use.