Commercial establishments urged to check septic tank lids are safe and secure
Background
NT WorkSafe is urging all workplaces across the Territory to urgently check that the septic tank lids on their property are safe and secured. In the last eight months, two children have fallen into septic tanks at separate commercial establishments in the Northern Territory.
Incident one
In December 2021 in the Katherine region, an 18 month old child playing outside of their accommodation fell head first through an unsecured lid into a septic tank. Fortunately, the child's older sibling saw the incident and managed to rescue the toddler from the tank.
Incident two
The second incident occurred last week at a commercial establishment in the Barkly Region, where a four year old child fell through an unsecured lid into a full septic tank after using the establishment's communal toilets. The child's parent witnessed the incident and was able to rescue their child.
NT WorkSafe's enquires into the incident are ongoing.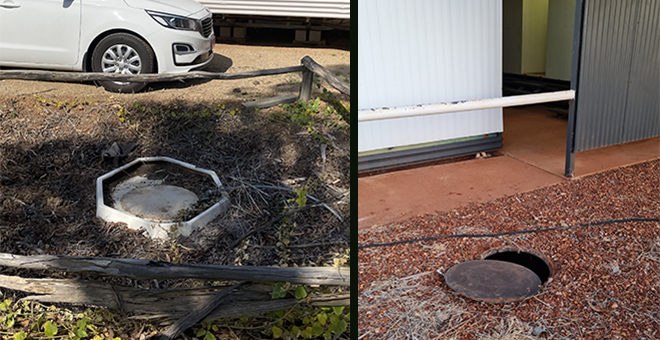 Disclaimer
The above information is based on preliminary findings from NT WorkSafe's initial enquiries. Inquiries are ongoing to determine the cause of the incident and the appropriate regulatory response.
Safety Information
Unsecured or fragile septic tank lids are a major hazard if access to the lid is not limited or controlled.
There is a risk of a fatal incident occurring if someone falls into a septic tank, this risk is significantly higher if the person is a young child. Unfortunately incidents of young children dying after falling into septic tanks have been reported in Australia and around the world.
Septic tanks fall within the definition of a confined space under the Work Health and Safety (National Uniform Legislation) Act and Regulations.
NT WorkSafe strongly urges all workplaces that have septic tanks on their properties to ensure the following measures are in place, and that they are effective:
Undertake Hazard Identification, Risk Assessment and Control (HIRAC), beginning by identifying hazards related to risks of falls in the workplace using the Confined spaces and the How to manage work health and safety risks Codes of Practice;
Consider available control measures and implement the control measures that most effectively eliminate or minimise the risks so far as is reasonably practicable;
Identify the location of all septic tank lids at your workplace;

Inspect the condition of the lids and replace any that are deteriorating or damaged;
Secure the lids using screws, bolts or other locks to prevent easy access; and
Establish a routine inspection schedule to check the lids are secure and in good condition.

Prevent access to areas surrounding septic tank lids, especially if the lid is located in a high pedestrian area.

Any barriers used must prevent young children from accessing the area.

Prevent septic tank lids from being damaged or accidently dislodged by stopping vehicles from driving over or parking on them.
Ensure septic tanks are maintained in accordance with:
Further Information
Contact:
Communications Unit
Email:
ntworksafe@nt.gov.au