Lack of checks leads to asbestos contamination of two homes
Background
Two residential homes have been contaminated with asbestos, after tradesmen inadvertently damaged asbestos containing material (ACM) in the homes.
Incident One
An Alice Springs contractor hired to do repair work in a house, used power tools on an internal wall that contained asbestos. Testing for asbestos occurred when a visitor of the homeowners expressed concern about the possibility of asbestos in the wall. Samples from the dust generated from the repair work tested positive for asbestos.
The contractor, two workers from another contractor and the homeowners have potentially been exposed.
Incident Two
Workers undertaking renovation work in a Darwin house drilled into concrete ceiling that had a vermiculite coating. Vermiculite is a spray-on textured ceiling finish popularly used in the 1970's to early 80's. Asbestos has previously been found in some vermiculite.
Concern from the homeowner lead to testing for asbestos, which have returned a positive result. At least six workers, including workers from other contractors, and the homeowner have potentially been exposed.
All involved in both incidents have been advised to register on the National Asbestos Exposure Register.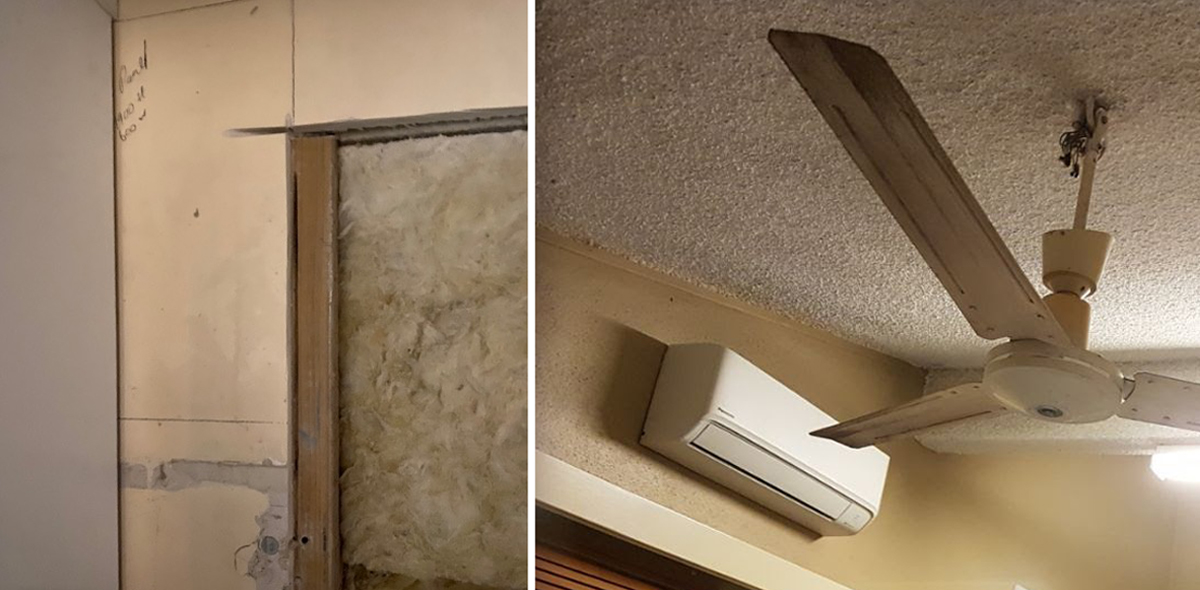 Disclaimer
The above information is based on preliminary findings from NT WorkSafe's initial enquiries. Inquiries are ongoing to determine the cause of the incident and the appropriate regulatory response.
Safety Information
Asbestos was used in over 3,000 products and can be found in many buildings and structures built or renovated before 1990. Asbestos is still present in older homes across the Territory, as well as in public and commercial buildings.
NT WorkSafe strongly urges all businesses involved in construction or property maintenance to ensure the following measures are in place and they are effective:
Have systems to ensure your workers who may come into contact with asbestos or ACM have appropriate information and/or training on how to identify asbestos.
Before commencing work, undertake Hazard Identification, Risk Assessment and Control (HIRAC) beginning by identifying the age of the building:

If a commercial building built before 2004, request to see the buildings asbestos register. An asbestos register lists all identified (or assumed) asbestos in a workplace and is a requirement for commercial buildings built before 2004.
If a residential home, ask the home owner if they know of any asbestos in their property. Asbestos registers are not required for residential homes and many home owners may not be aware their home contains asbestos.

If no information is available and the building was built or renovated before 1990, use online resources such as asbestos.nt.gov.au/know-where-asbestos-is or asbestossafety.gov.au/find-out-about-asbestos/asbestos-home to familiarise yourself with common asbestos locations and asbestos products.
Take the appropriate precautions by assuming asbestos or ACM is present, and arrange a licenced asbestos removalist to take samples from the work area for asbestos testing.
Any identified asbestos likely to be disturbed by the works must be removed before works commence and it is recommended that you engage a licenced asbestos removalist for the removal.
If the identified asbestos or ACM is friable, meaning the material containing asbestos that can be crumbled, pulverised or reduced to a powder by hand pressure when dry, the removal must be done by a Class A licenced asbestos removalist.
The How to manage and control asbestos in the workplace Code of Practice has information on how to manage asbestos-related risks before demolishing or renovating commercial and residential buildings.
Removing less than 10m2 of non-friable asbestos
A licensed asbestos removalist is not required if the asbestos requiring removal is non-friable and less than 10m2. If you are intending to remove the asbestos, you must:
Ensure you workers undertaking the removal have completed asbestos awareness training; and
You follow the How to safely remove asbestos Code of Practice and all workers are equipped with the necessary personal protective equipment.
Further Information
Contact:
Communications Unit
Email:
ntworksafe@nt.gov.au