Multiple machine operators across the Territory taking down power lines
Background
NT WorkSafe has received a spate of notifications this year involving machine (plant) operators making contact and in the majority of cases bringing down overhead power lines. Seven separate incidents have occurred in the space of 11 weeks from mid-February. Three incidents occurred in Borroloola, two in Darwin, and the remaining incidents in Kintore and Jilkminggan.
Five of the incidents involved excavators, while a forklift and a backhoe were involved in the other two incidents.
Aside from the loss of power to the affected areas, no injuries were reported for any of these dangerous incidents which could have resulted in serious injuries or death.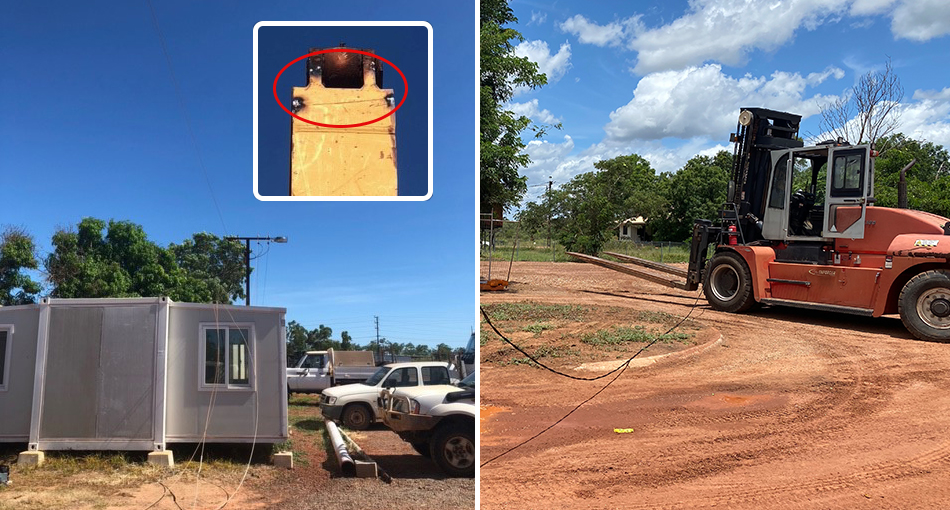 Disclaimer
The above information is based on preliminary findings from NT WorkSafe's initial enquiries. Inquiries are ongoing to determine the cause of the incident and the appropriate regulatory response.
Safety Information
Contact with live high and low voltage overhead and underground electrical lines poses a serious risk to workers, damage to plant and equipment, legal action, and reputational damage due to the loss of essential services to the community. The person conducting the business or undertaking (PCBU) must manage the risks associated with the hazard.
NT WorkSafe strongly urges all workplaces undertaking similar activities to ensure the following measures are in place, and that they are effective:
Unless you can meet the requirements of Regulation 12 of the Electricity Reform (Safety and Technical) Regulations 2000, you must not allow any work to occur in close proximity of power lines.
Undertake Hazard Identification, Risk Assessment and Control (HIRAC) beginning by identifying hazards related to contact with power lines in the workplace using Managing Electrical Risks in the Workplace Code of Practice;
Ensure all persons in the workplace have appropriate training, instruction and supervision necessary to protect them from risks to their health and safety; associated with working around live electrical infrastructure;
Consider available control measures and implement them to eliminate the risk so far as is reasonably practicable, where it is not reasonably practicable to eliminate the risk, minimise the risks so far as is reasonably practicable. The PCBU must manage the risk of contact with electricity in a workplace by providing a safe system of work, which may include asking one or more of the following questions:

Are workers or plant likely to go near electric lines? If so, how high are the electric lines and the plant?
Are overhead electric lines hard to see in the sky or are they hidden by trees?
Have underground electric lines been accurately located?
Is a trained spotter in place to supervise when plant is operating close to electric lines?
Has Power and Water or the local electricity supply authority been contacted for information about specific requirements when working near electric lines, including the qualifications required for those people working near electric lines?
Have emergency rescue procedures been established, including calling the electricity supply authority to isolate the electricity supply before trying to rescue a person receiving an electric shock?

Discuss the hazards identified, the likely risks and harm it could cause, and seek feedback from your workers on the control measures you have implemented at your next toolbox talk or team meeting;
Follow the Northern Territory's Work health and safety consultation, cooperation and coordination Code of Practice, and consult your workers and their health and safety representatives when deciding how to manage the risks in the workplace, including when reviewing and making changes to existing processes.
The Work Health and Safety (National Uniform Legislation) Regulations 2011 classify a number of activities as 'high risk construction work' for which a Safe Work Method Statement (SWMS) must be prepared before the work starts.
This includes construction work where there is a risk of a person working near electrical infrastructure, and especially contact with electricity. For further information on developing a SWMS see Appendix E - High risk construction work safe work method statement template of the Construction Work Code of Practice.
Further Information
Contact:
Communications Unit
Email:
ntworksafe@nt.gov.au