Fatalities decrease but vehicle collisions still the major cause of worker deaths

Workplace fatalities in the Northern Territory decreased by 57% in 2018 according to latest statistics released by Safe Work Australia. The Key Work Health and Statistics Australia 2019 shows three-worker fatalities occurred in the Northern Territory compared to seven fatalities in 2017. This drop has lowered the Northern Territory fatality rate from 5.1 in 2017 to 2.2 fatalities per 100,000 workers.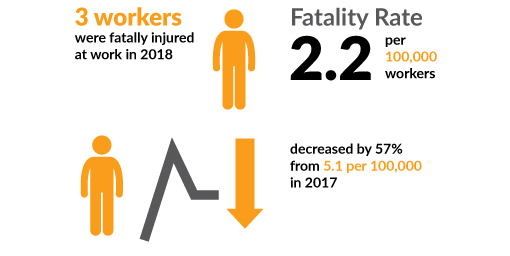 Nationally fatalities decreased 24% with 144 worker fatalities occurring in 2018 compared to 189 worker fatalities in 2017. The national fatality rate is 1.1 fatalities per 100,000 workers.
Work-related injury fatalities by industries
The three Northern Territory fatalities in 2018 occurred across two industries.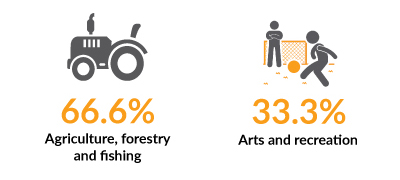 In the five years from 2014 to 2018, 75% of fatalities in the Northern Territory occurred across three industries.

Work-related injury fatalities by mechanism of fatal injury
A vehicle collision caused two of the three Northern Territory worker fatalities in 2018.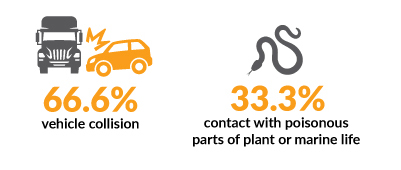 Safe Work Australia uses the term 'vehicle collision' to identify fatalities (and injuries) that occurred as a direct result of a vehicle crash. Vehicles include not only cars and trucks, but also machines such as aircraft, helicopters, boats, loaders, tractors and quad bikes.
Vehicle collisions still the major cause of worker deaths
Vehicle collisions has been the leading cause of worker fatalities nationally for a number of years. In 2018, 31% of national worker fatalities were caused by vehicle collisions.
The percentage in the Northern Territory is much higher, with vehicle collisions causing:
66.6% of the worker fatalities in 2018,
55% of the worker fatalities in the 5 years from 2014 to 2018,

with 45% of those vehicle collisions involving an aircraft or helicopter.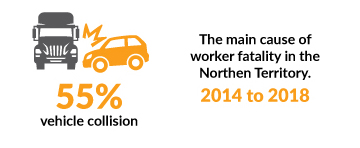 Focus on safe vehicle use
The majority of vehicle collisions in the Northern Territory occurred outside of the urban areas. Businesses who require their workers to operate vehicles in non-urban areas should have the appropriate policies and procedures to ensure:
workers have the appropriate training and instructions to operate the vehicle in the conditions they may encounter;
the vehicles are routinely maintained and fit for purpose;
procedures are in place for remote or isolated work; and
the risks associated with operating the vehicle have been identified and eliminated if possible or minimised.
Workers operating vehicles as part of their work, must take reasonable care for their own health and safety and the safety of others. This includes:
follow any reasonable policies, procedures and instructions set by their employer; and
follow the requirements outlined by road traffic or transport regulations.
Additional information
Recently the Vehicles as a Workplace National Guide was released as a resource for Australian workplaces. The guide is a collaboration between Australian state and territory work health and safety authorities, road safety authorities, the National Heavy Vehicle Regulator and other key stakeholders.
The NT WorkSafe Guide for remote and isolated work provides information on the hazards that may be present for people required to work remotely or in isolation.
Month 2019 safety seminar on Driving in the Central Australian Outback delivered by Jol Fleming and Brett Malouf.