Damaged, defective or degraded overhead electrical infrastructure
The purpose of this safety alert is to provide information to homeowners, occupiers and electrical contractors about potential electrical safety risks posed by damaged, defective or degraded overhead electrical infrastructure.
Background
In October 2020, a person in a remote community was fatally injured after attempting to climb into a secured external area of a residence. The preliminary findings suggest that the person suffered an electric shock which, combined with other circumstances, contributed to the death.
An examination of the property's electrical installation and overhead power lines found damaged insulation on the overhead power line and a connection that had the potential to energise the entire roof, posing a risk of electric shock or electrocution to any person who made contact with it, directly or indirectly.
Contributing factors
The overhead power line was subject to various environmental factors that caused the insulation to become damaged (figure 1).
The damaged area of insulation made contact with a stainless steel braided wire, causing the wire to become energised (figure 1).
The stainless steel braided wire was connected to a metallic gooseneck riser hook, attached to the metal roof, which became energised at 240 volts (figure 2).
Instrument checks found that neither the roof structure nor the gooseneck were solidly earthed as required under AS/NZS 3000 Wiring Rules.
Defects were found on the low voltage service clamp installation and service conductor.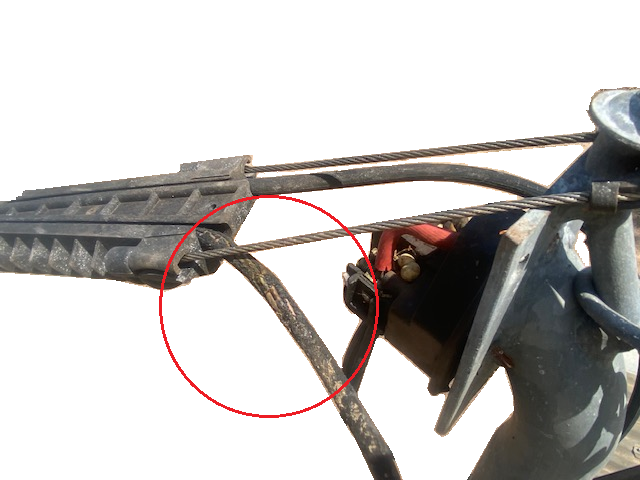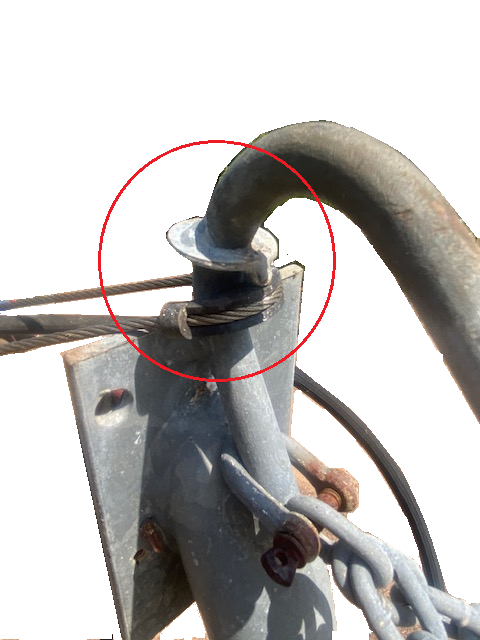 Action required
Any member of the public can report a fault or damage to Power and Water Corporation property or infrastructure by submitting an online fault report on the Power and Water website.
To report a life-threatening or dangerous situation, such as a power line on the ground, call 000 or the Power and Water emergency line on 1800 245 090 immediately.
Homeowners and occupiers of residences connected by overhead power lines should regularly look up to see if there are any obvious visual signs of damage or degradation. If you notice deterioration or damage, contact a qualified electrical contractor or Power and Water to assess the risk.
Qualified electrical workers and contractors are reminded to:
Conduct a risk assessment before commencing electrical work
Inspect all points of connection to power network infrastructure and ensure they are compliant
Ensure all structural metalwork is solidly earthed as required under AS/NZS 3000 Wiring Rules
Further information
For further information, please refer to the following:
Legislation
Guidance publications
Safety alerts
Disclaimer
This Safety Alert contains safety information following inquires made by NT WorkSafe about an incident or unsafe practice. The information contained in this Alert does not necessarily include the outcome of NT WorkSafe's action with respect to an incident. NT WorkSafe does not warrant the information in this Alert is complete or up-to-date and does not accept any liability for the information in this report or as to its use.